Navigating an Unproven Luxury Product with 2 Developers
Hyde Canyon
By Infinity Properties & Distrikt Homes
Salmon River, Langley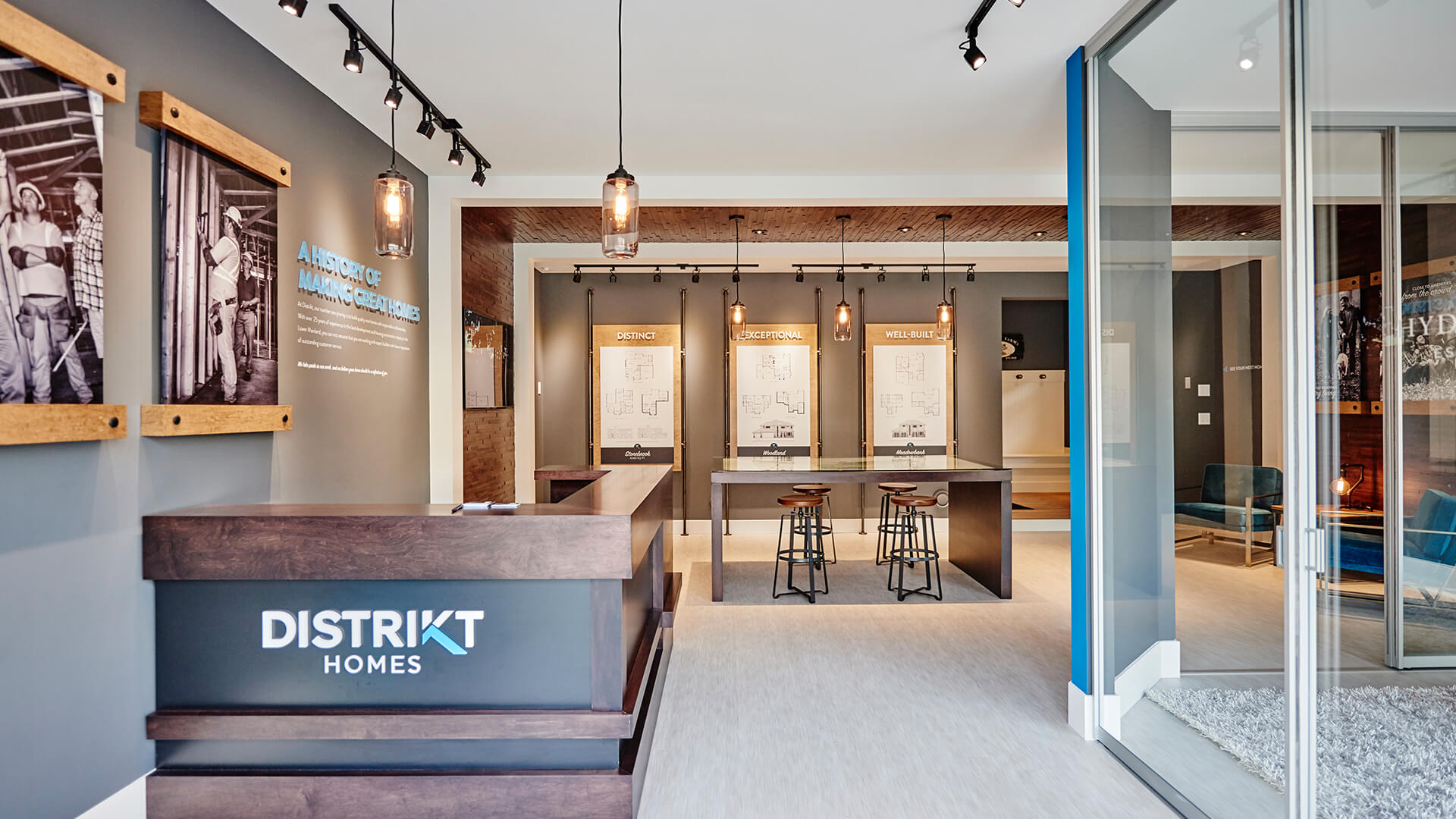 64 estate homes woven into a magnificent natural setting in Langley.
Hyde Canyon was a very unique project in a rural area of Langley near 244th Street & 61st Avenue. The subdivision was bare land strata – with narrower roads and reduced setbacks from Township standards.
Two developers (Benchmark Homes & Distrikt Homes) split the lots 50/50 (32 homes each) and each had their own presentation centre and their own furnished showhomes.
The site itself was divided by a valley (hence "Canyon") of beautiful protected greenspace with a cluster of homes on level lots, while the larger percentage of homes were on a hillside with fairly severe slopes and views of the mountains. The homes ranged up to 5,000 sq. ft. with high-end finishes and a wide range of custom options.
Momentum managed the marketing and sales for the site brand, while also executing separate sales programs for each developer."
Project Challenges
Although it was a project rich in amazing features, it also came with a number of challenges. The beautifully picturesque location was quite removed from the typical Langley residents' course of travel. There was essentially zero drive-by traffic, and for most potential buyers, there were a number of discussions regarding travel time to schools, shopping, services, and other essential amenities.
It was also in an area of much larger lot sizes. We came to find that most people moving outside of the urban centres were looking for more elbow room, perhaps room for a shop or a place to ride horses. Though the Hyde Canyon lots offered more than enough room for a nice home, with lots ranging from 6,000-10,000 sq. ft., they still were very different from an acreage property.
Not to mention, Hyde Canyon's homes were spacious and well-appointed, which came with a higher price tag. We needed to appeal to a niche target market – one looking for a luxury home in Langley – and show them this was the place for them.
Finally, Momentum managed the sales for both developers – essentially competing with each other for the same pool of buyers. In order to manage this successfully, you need to have your clients trust that it will be handled professionally without compromise.
The Outcome
The success of Hyde Canyon came with a lot of planning long before the doors opened. It was essential that people became familiar with the project and that their interest was piqued. We partnered with a local video company to shoot some stunning aerial videos prior to the first homes being completed. These videos ran in digital ads, as well as on a continuous loop in our presentation centre.
We also engaged with a number of local influencers and held a private event in the hopes of generating some much-needed PR. This resulted in an article written with VanCity Buzz (now Daily Hive) that generated a massive amount of views (20,000+), shares and comments. We also reached out to the Vancouver Sun, resulting in a multi-page editorial feature. Additionally, we invited the local real estate community to a pre-launch featuring an outdoor barbeque that brought in 100+ Realtors. They were very impressed with the development and began spreading the news to their clients.
Once on-site, we had 4 showhomes, plus 2 presentation centres. During a visit, people often wanted to get a visual of the lot itself. However, with such an expansive site, this would've been very difficult to do on foot. Instead, we sourced a golf cart with 2 rows of seats and added Hyde Canyon branding. This allowed our sales team to stay engaged with the prospective buyers, while showcasing our site in a very unique and efficient way.
In the end, we sold out Hyde Canyon in a timely manner with a number of sizeable price increases along the way. The sales team successfully navigated the process with both developers and the project remains one of Langley's most unique communities.